What is an outbound calling campaign, and how does it work?
Outbound calls are when the caller makes calls to clients to sell more leads, get them to sign up and promote your brand, or conduct some investigation.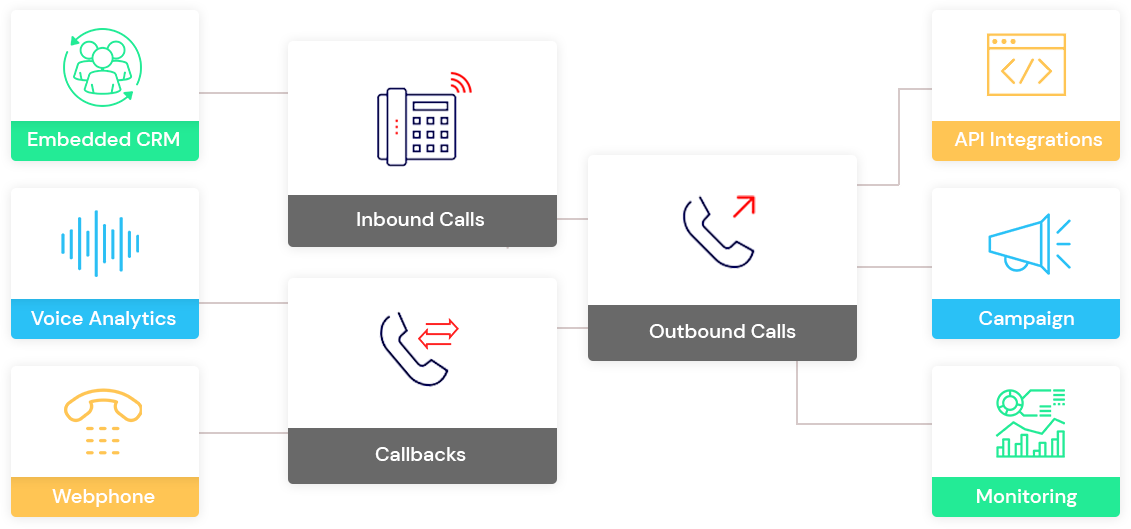 According to the latest Contact Babel report, the main kinds of outbound activities that US contact centers carry out include:
Callbacks on current problems
Customers may request a callback.
Calls to sales for existing customers
Calls to sales to prospective new customers
Collection of debt
Customer satisfaction surveys
In spite of all the voice channels, calls remain a necessity. Tired of the constant lockdowns, people are content to hear voices, not many messages on messengers. Let's now explore how we can develop and manage an effective outbound phone campaign.
Many factors contribute to the effectiveness of an outbound marketing campaign. We provide professional advice to aid you in achieving your own campaign's objectives.
How should You Plan An Effective Outbound Calling Campaign?
Outbound calling campaigns are one of the most effective methods to reach your target audience. However, it is important for you to plan an effective outbound calling campaign.
The first step in planning an effective outbound calling campaign is understanding who your target audience is and what they want. You should also determine how you want to communicate with them.
The second step in planning an effective outbound calling campaign is determining the best time of day to call them. You should pick a time that will be most convenient for your target audience because they will be more likely to answer your call at that time.
The third step in planning an effective outbound calling campaign is determining what type of call you want to make with them. There are three types of calls: informational, sales, and support calls.
Prepare an Outbound Calling Campaign That Works. The Best Suggestions
Here are some best suggestions to make your Outbound calling campaigns successful.
1. Decide your goals and strategy.
The first thing to decide on is setting goals for your campaign and then developing an approach on how to proceed with it. Data & Marketing Association (DMA) experts suggest taking into account the following concerns when achieving your campaign goals:
What would you like your company to achieve?
What are the benefits that your customers can expect from your company?
Can you define goals?
Do you have a realistic goal?
What number of dials as well as decision-making contact (DMCs) would be needed?</li >
What are rates of conversion feasible?
What quality targets do you need to consider, other than the financial?
What information regarding the person you are speaking to from the conversation?
How can it assist your client to improve his experience when he comes back to you in future campaigns?
If you are satisfied with the results, then you can move on to the strategy for your campaign. It is dependent on the goals of your company. However, there are some factors to be aware of:
Your client has to first respect their right to reject
Honesty and honesty are the best.
Engage in effective negotiations
Enhance conversation by converting calls. Try to strike the right balance in establishing the timeframes for outbound calls
Don't let your customers be "listening hostages."
Make sure you keep the promises you make.

2. Write a script for a phone call
By using a script that is well-thought-out, you will be able to conclude an offer. Consider the requirements of your potential customers and prepare for possible responses and objections to the deal. Our all-in-one call center allows you to create call scripts more quickly from a variety of blocks (knowledge base poll proposal, HTML, and more in frames). These scripts are displayed through the agent's interface during calls. It can save time for employees since they don't have to navigate between various software programs.
3. Take care of management issues
Let's look at campaign management. Check out the list of guidelines to follow:
Dialing strategy. The size of your list of contacts is the primary factor to establish how you dial. To keep this in mind, you should choose the number of employees you will require, and the dialing method will be utilized. Additionally, you must consider the amount of time the campaign will last.
Use the data to process it. Verify the contact list information and make sure they are secure to prevent security breaches on the agents on their side. Our software for call centers allows you to do this by hiding telephone numbers both completely and partially.
Respect the law. Be sure that the information that you have listed isn't on your Do Not Call (DNC) lists or other registers that have clients who don't wish to receive calls from unknown numbers. Be sure that your dialing program is configured in accordance with the telemarketing rules for the region you're in.
4. Select a Dialing Mode that is suited for your situation.
If you are running campaigns, your call center may use three dialing methods. Each of them is distinct and is a way to identify the different sorts of calls.
Preview dialing occurs when the system provides details about the client prior to the call. The agent can decide whether or not to call. This kind of system is ideal for complex sales because it allows you to take time to consider before starting the discussion.
Progressive dialing (Power dialing) is when the system initiates one call and blocks all calls that are inactive, non-answers, or answer machines. This lets you connect only your available agents by making live calls and increasing the number of contacts you get. This tool is ideal for small team sizes (no more than five).
Predictive dialing is believed by many to be the best possible mode of dialing that includes answering machine detection. It also allows managers to be connected with live calls. It can also record statistics about the duration of calls. It can therefore determine the approximate duration when an agent is in the office and then call the next customer by selecting the client from the menu. The larger your group is, the better precise the calculations will be. Our predictive dialer is able to dramatically improve productivity since the users don't need to wait for the next call to remain engaged. It's flexible in its redialing rules, so you can choose the number of attempts you'd like.
5. Select the appropriate Stages
The strength of our outbound campaigns is based on a variety of factors, the fact that there are plenty of factors to go at first.
1-Contact list quality. Poor or obsolete contacts could impact your campaign and result in it failing.
2-Dialing mode. It affects the agent's time to talk and effectiveness. The number of calls you make can make your team overload, and you'll lose many calls.
3- Standard talking time. It is different for each type of campaign (sales or survey service). If you know the typical talk time for non-decision-makers and decision-makers, it will assist you in getting the right figures for your campaign.
The role of VirtualUX in Helping You plan an effective outbound calling campaign.
VirtualUX is one of the best and most advanced Outbound call center solutions in the market. It provides you with a complete set of features to make your outbound call marketing campaign successful.
It is a perfect solution for companies that contains an existing contact center but doesn't have enough investment. It has many features and benefits that will help you plan an effective outbound calling campaign. You can use this solution to create your own Outbound call center, or there are pre-built templates available for purchase. You can also add new agents on demand, schedule campaigns, and track your performance metrics through analytics tools.
Still Not Confident?
Do you want to know the details about us and what we offer? Look over our reviews of satisfied clients, and don't overlook to look at our incredible team that makes everything simple for customers. It is essential for us to consider the needs of the customer first. By establishing trust with our clients, we can be the best for them and aid them in reaching their objectives. We're sure that if you choose us, you're going to enjoy the best customer experience.
So go ahead and book a meeting with us right now.
News & Blog